Welcome to Enterprise Seeds Ltd
Enterprise Seeds are an independent family owned business dedicated to the supply and marketing of high quality combinable crop, grass and forage seeds.
A message from the Chairman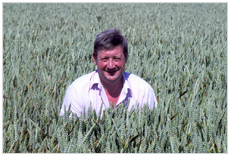 When I entered the seed industry in 1970 the demand for agricultural commodities was high and farmers were actively encouraged by Government to increase agricultural produce in all sectors with the aim of self sufficiency. The odd sterling crisis or two gave us another reason to reduce our reliance on imported goods.
In more recent times this situation had been reversed and a combination of overproduction and poor prices had resulted in a general decline within the industry. 2006 saw feed barley values at £55 per tonne ex farm a price last seen in the mid sixties. However, 2007 witnessed a dramatic rise in world commodity prices bringing forward the issue of food security which now features higher in the list of priorities. This position has been consolidated in 2010 with high quality milling wheat reaching £200 per tonne. The future may see that imports will become more expensive and possibly unaffordable thus refocusing our priorities on home produced food. The seedsmans role, being at the top end of the food chain producing and supplying seeds at the start of crop production is as vital as ever. Our company is dedicated to the production and supply of these valuable products.